AB20V+G : Semi Auto Brazing Machine with Gang Saw Brazing Jig attachment
AB20V+G

Semi Auto Brazing Machine with Gang Saw Brazing Jig attachment
This machine is designed to weld segments on circular saw blade Steel core by high frequency induction by semi auto way
If you attach Gangsaw Brazing Jig, it can braze Gang Saw too.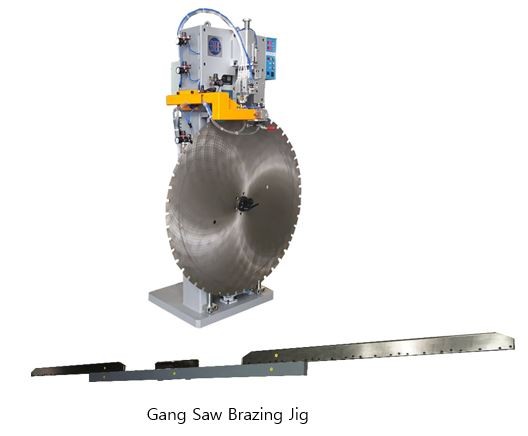 MACHINE FEATURES
* Manual Brazing Machine.
* Manual rotation of steel core with segment & steel core alignment device to fix position.
* Manual Alloy Feeding
* Dual cooling sytem with air & water
* Segment clamp is made of Ceramic meterial to improve durability & heat resistance.
* Display & djustment device for segment centering adjustment accurancy 0.02mm
* Gang Saw Jig attachemnt Type
TECHNICAL DATA
* MODEL NO: AB20V+G
* POWER SUPPLY: 220/380 V, 3 PHASES, 50/60 Hz
* MAX.POWER CONSUMPTION: 28W
* MAX BRAZING DIAMETER: 2,000mm
* MAX.SEGMENT THICKNESS: 18mm / Height: 25mm
* COOLING WATER: 5L/Min, 2 - 5 Bar
* COMPRESSED AIR PRESSURE: 0.4~0.6 Mpa
* BRAZING RANGE: diameter 300mm~2,000mm
* BRAZING PRECISION: 1+/-0.05
* BLADE SYETRY TOLERANCE: +/-0.05mm
* PRODUCTIVITY: 7~10 Blades /Hour for 350mm dia.saw blade
* MACHINE DIMENSION: L150mm x W100mm x H 2100mm (except Gagnsaw attachement)
* WEIGHT : APPROX. 500 Kg
This technical data may be used only for guideline of production. DIEX Corp. will reserve the right to introduce any technical modification to its own machines, also in contract acquired, which its irrevocable decision are improvements. Therefore, any datum given on the catalogues & and data sheet has only indicative value.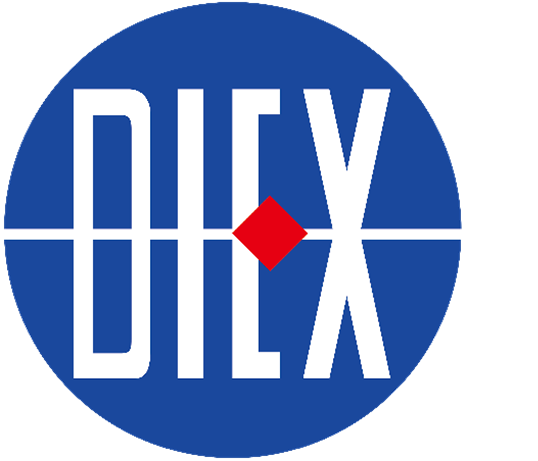 Advanced Machines & Equipment for Diamond Tools
DIEX CORP.
www.diex.com / sales@diex.com / T. +82 70-8877-4563 / F. +82 2-6442-3804