COMPUTER TENSION MACHINE WITH CONTROLLER :CTMC1/12E
COMPUTER TENSION MACHINE WITH CONTROLLER

MODEL NO. CTMC1/12E
Computerized tension & controlling for circular saw blade possible diameter range is from 100-1200mm.
Control checking side run-out & tensioning at the same spindle using powerful software(TENDIEX) & encoder.
Position of roller by servo motor and rotation of roller controlled by encoder.
This machine is suitable to steel blank(shank)producer for mass production.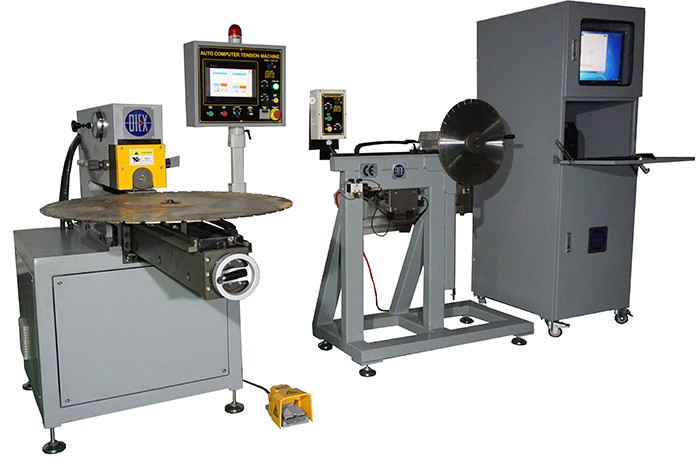 Adjustable rolling pressure

Pedal.switch rotation control with automatic approaching of pressing rolls.

Adjustable speed change of pressing roll rotation rotation of pressing rolls.

Table with a control spindle mounted on precision bearings with different diameter of flanges

A pneumatic cylinder piston with adjustable unidirectional thrust slide on vertical guide moving together with detecting sensor on horizontal guide.

Automatic steel core locking system by pneumatic cylinder.

It consists of bench mounted on precision bearing with precision flange, encoder data acqusition box, control cabinet ,tension rolling machine

Non contact linear sensor able to check deflection & tension.

Fully computerized system allows creating & visualizing tension & deviation by real time data acqusition.

All technical data of tension & control could be stored on hard disk & print out as report form to make Q.A.
TECHNICAL DATA
Model No. : CTMC1/12E

Max. Power Consumption: 5KVA

Roll Rotation Speed: 1~10 m/min (Adjustable & Variable)

Pressure Force (Adjustable): Based on Hydraulic Cylinder dia. 100mm)
B Type : 1.0~5.6 tons
C Type : 2.8 ~ 11.2 tons
H Type : 5.6 ~ 15.7 tons
Standard Rollers Camber: 40 RADIUS possible change upon request.

Rolles Diameter : 95MM

Main Spindle Diameter : 20mm

Roller positioning by servo motor

Roller rotation positioning by encoder

Tensioning Blade Diameter : 200MM to 1,200MM

Controlling Blade Diameter: 200MM to 1,200MM (Side Run-out & Tensioning Check)

Max Shank Thickness : 7MM

Air Consumption : 5L/MIN.

Overall Dimension : LENGTH :1,800MM
WIDTH :1,000MM
HEIGHT :1,350MM
Weight (Indicative): APPROX. 900 Kg

Note: Extension main spindel body:800mm by customer request.
CTMC1/12E - Special Version for Steel Core Production
This technical data may be used only for guideline of production. DIEX Corp. will reserve the right to introduce any technical modification to its own machines, also in contract acquired, which its irrevocable decision are improvements. Therefore, any datum given on the catalogues & and data sheet has only indicative value.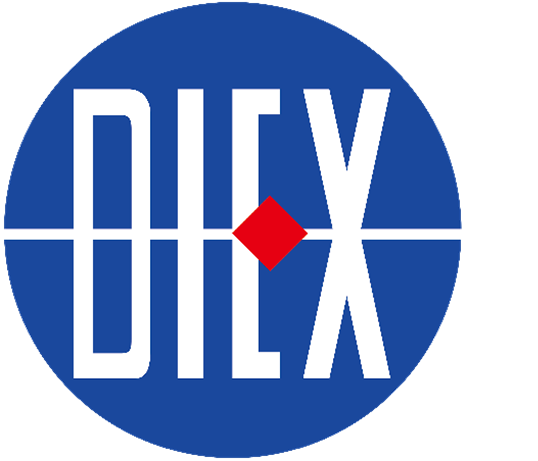 Special Machines & Equipment for Diamond Tools
DIEX CORP.
www.diex.com / sales@diex.com / T. +82 70-8877-4563 / F. +82 2-6442-3804