CNC LASER WELDING MACHINE : CNC-L
CNC LASER WELDING MACHINE MODEL NO. CNC-L
FULLY CNC CONTROL LASER WELDING MACHINE USING CO2 OR FIBER LASER GENERATOR.
Turn-key CNC tooling for laser welding of diamond segments engineered to work in cooperation with a dedicated
laser beam generator ( laser generator and suitable optics to be supplied by customer or Diex)
Standard 3 axis X,Y,C movements fully numerically controlled;
Optional additional V axis to automatically measure disk diameter and correct accordingly the NC program
- Automatic disk loading/un-loading device;
- Automatic disk locking device on spindle shaft;
"One by one" segment welding obtained by X-Y axes interpolation and carried out upon measured disk radius.
Welding path fully programmable according to any desired shape as long as they fit inside X-Y working area;
- High force grippers to provide positive holding of segments during weldment;
Self-centering grippers are capable to maintain the segment positioned with equal shoulder referred to disk position
regardless if segment height is slightly inconsistent (within pre assigned range)
Manual precise vertical adjusting of spindle to adjust shank working level versus grippers centre line.
Automatic segment feed station from vertical magazines
Auxiliary second segment gripper assembly fed by vertical magazine, engineered to feed "drop" segment
shaped according to customer Specs.
- Auxiliary shank clamping device to provide positive holding of shank end during welding;
- Parametric software ("friendly use") full - diagnosis
Technical data sheet
Laser beam generator2.0 KW - C02 laser generator
( Customer or Diex to supply )
Vertical magazine capacityup to 200 segment.
Welding feed rateup to 4 M./MIN.
Disk diameter range100-625 mm
MotorsBrushless
ControllerCNC Num (Telemecanique)
Axis StrokeX:450 mm Y:150 MM C:CONTINUOUS Z (spindle vert adj): 20 mm
Standard axis max feed rateX:10 M./MIN Y:10 M./MIN C:50 RPM Z:MANUAL
Positioning accuracyX:+/-0.02 MM Y:+/-0.02 MM C:+/-0.05 degrees Z:+/-0.05 mm
Overall dimensions2500 x 2500x 2500mm
Machine performance
Typical welding performance is 5.0 seconds/ segment (40 mm long) for a "WELD & FEED" task which generates
A cycle time for 230mm, disk with 15 segm. Of 75 (seventy-five) seconds for a complete cycle provided that:
-Welding velocity is at least 3 m./min ( v = 2-4 m/min); Segment length is not exceeding 40 mm.
-Segment length is not exceeding 40 mm.
-No probing cycle is active
-No time delay is wasted to allow opening/closing laser beam shutter
NOTE: Tanks to outstanding segment holding it is possible to weld ONE SIDE ONLY up to 300 mm
TECHNICAL DATA
SYSTEM TYPICAL CONFIGURATION
1. STANDARD TURN KEY MACHINE INCLUDING NUMERIC CONTROLLER AND SOFTWARE
2. AUTOMATIC DISKS LOADING/UNLOADING DEVICE INCLUDING 2 PLATFORM-MAGAZINES
3. ADDITIONAL V AXIS TO PRECISELY MEASURE DISK DIAMETER INCLUDING SOFTWARE PACKAGE TO
AUTOMATICALLY COMPENSATE NC PROGRAM UPON REAL DISK DIAMETER
4.SENSOR KIT TO DETECT DROP SEGMENT POSITION BEFORE AS WELL AS AFTER DROP SEGMENT IS WELDED
5.TWO EXTRA VERTICAL MAGAZINES EQUIPPED WITH QUICK CHANGE DEVICE AND DESK TOOLING
FOR FAST REFURBISHING
6. SECOND GRIPPER ASSEMBLY COMPRISING GRIPPER SHUTTLE PLATE, MAGAZINE TO AUTOMATICALLY
7. GRIPPER PROVIDED WITH HYDRAULIC CYLINDER TO PERFORM INCREASED SEGMENT HOLDING FORCE
8. SHANK CLAMP-UP UNIT TO ALLOW AUTOMATIC HOLDING OF SHANK AREA DURING WELDING
9. GRIPPERS (BOTH) PROVIDED WITH SELF-CENTERING FEATURE
10. Z PRECISE SPINDLE VERTICAL ADJUSTMENT
CNC TOOLING FOR LASER WELDING SYSTEM: OPTION LIST
1. STANDARD TURN KEY MACHINE INCLUDING NUMERIC CONTROLLER AND SOFTWARE:
2. STANDARD AUTOMATIC DISKS LOADING-UNLOADING DEVICE INCLUDING 2 PLATFORM MAGAZINES
(MAX DISK DIAMETER=625MM);
3. OPTIONAL DISK LOADING-UNLOADING DEVICE EQUIPPED WITH DUAL INFEED MAGAZINE AND
DISK ROTATION DEVICE TO PREPARE DISK FOR "DOUBLE SIDE WELDING";
4. INTEGRATION OF INSPECTION STATION IN ORDER TO CARRY OUT FULLY AUTOMATICALLY A
100% INSPECTION OF WELDING BLADES.
5. INTEGRATION OF VIBRATORY FEEDER BOWL TO REPLACE VERTICAL MAGAZINE
6. SECOND GRIPPER ASSEMBLY TO AUTOMATICALLY FEED "DROP" SEGMENT (ASPHALT DISKS)
FED BY DEDICATED ADDITIONAL VERTICAL MAGAZINE ENGINEERED FOR ODD SHAPE SEGMENTS
(CUSTOMER TO SUPPLY DROP SEGMENT SHAPE)
7. SENSOR AND SOFTWARE KIT TO DETECT DISK DIAMETER AND DISK RUN-OUT (V AXIS);
8. STROKES EXTENSION TO WELD DISK DIA.UP TO 900 MM;
9. ADDITIONAL SERIAL LINE TO ALLOW CONNECTION TO REMOTE PC/PRINTER TO COLLECT DATA REPORTS
10. SAFETY ENCLOSURE;
CNC TOOLING FOR LASER WELDING SYSTEM: ADVANTAGES
1. AUTOMATIC LOADING/UNLOADING OF CORES;
2. AUTOMATIC FEEDING OF SEGMENTS FROM QUICK CONNECT MAGAZINES OR FROM VIBRATORY BOWL;
3. AUTOMATIC DETECTING OF DISK DIAMETER AND DISK ECCENTRICITY;
4. AUTOMATIC DETECTING OF CORE ORIENTATION (SLOT ANGULAR POSITION);
5. ONE BY ONE SEGMENT WELDING OBTAINED MAINTAINING STATIONARY THE LASER BEAM AND
MOVING DISK SEGMENT BY INTERPOLATION OF X AND Y AXES TO GENERATE AND DESIRED
"PATH" WITHIN THE WORK ENVELOPE;
6. POSITIVE RADIAL FORCE APPLIED TO THE SEGMENT THROUGHOUT THE ENTIRE PROCESS
IN ORDER TO PROVIDE CONTACT BETWEEN SEGMENT AND DISK DESPITE TENSIONS GENERATED DURING
WELDING;
7. VERTICAL ADJUSTING OF SPINDLE ASSEMBLY TO ALLOW EQUAL SEGMENT SHOULDERS POSITIONING;
8. ULTRA PRECISE, DIRECT DRIVE, SPINDLE ASSEMBLY;
9. DOUBLE GRIPPER ASSEMBLY TO ALLOW LASER WELDMENT OF ASPHALT "DROP" SEGMENTS OF ANY
DESIRED SHAPE;
10. FULLY AUTOMATIC ROUTINE TO PERFORM WELDING OF THE OPPOSITE SIDE OF THE DISK IF NEEDED ;
11. OPTIONALLY SUITABLE FOR DRILL CORES;
12. AUTOMATIC QUALITY CONTROL MODULE TO PERFORM RESISTANCE QUALITY OF EACH WELDED SEGMENT
(PISTON APPLIES TARGET TORQUE TO EACH SEGMENT DETECTING DEFLECTION);
13. VERY FAST AND RELIABLE CYCLE TIME :75 SEC FOR A 230MM. DIA DISK WITH 15 SEGMENTS;
14. PRODUCTION DATA DOWNLOADED TO REMOTE PC;
This technical data may be used only for guideline of production. DIEX Corp. will reserve the right to introduce any technical modification to its own machines, also in contract acquired, which its irrevocable decision are improvements. Therefore, any datum given on the catalogues & and data sheet has only indicative value.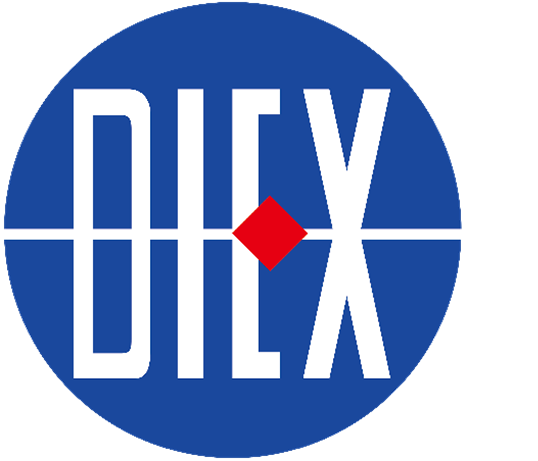 Special machines & Equipments for Diamond Tools.
DIEX CORP. #1104 -101,Empire,127 Uisadang-daero,Yeongdeungpo-Gu,Seoul Korea.
www.diex.com / sales@diex.com / T. +82 70-8877-4563 / F. +82 2-780-0098