1993 Aug. Company registration
1993 Sept. The first export to Taiwan, Auto Brazing, Sintering M/C etc.
1994 Vacuum Sintering M/C development, Export to Thailand,
Auto Cold Press,Auto Dosing Machine Development
New Development for Volumetric Cold Press,Small Brazing Machine,
Small Grinding M/C,Tension M/C(TENDIEX Model)
Japan,China India TURN-KEY PLANT Export
1996 New Development for Small Full Auto Brazing M/C,Vertical Vacuum
Sintering M/C(SINDIEX Model)
Technical Cooperation Agreement with ROBOSINT srl Italy
Acquire EM Mark for Auto Brazing M/C,Vacuum Sintering M/C
Export To Malaysia ,Japan.
Mr.Chung was appointed as Technical member for PM DIAMOND TOOL'97 in Swiss.
Participate Verona Fair 1996(Vacuum Sintering Machine,Auto Dosing M/C
Move to New Factory
Receive Turn-Key Plant order from Korea-Japan J.V.company
Acquire EM Mark for Auto Brazing M/C,Vacuum Sintering M/C
Selected as alternate employment site for military personnel
(Defense Department of Korea)
1997 Acquire EM Mark For Auto Cold Press
The First Export to Europe(Spain, Belgium)- 5 machines including Volumetric Cold Press
Development for Granulator,Diamond Coating Machine.
Appointed as the excellent company by BuPyung-Gu
Potential Small & Medium Company by Korean Credit Fund
1998 KOTIC member
1999 Selected as Promising Tech Trade Company
(Small-Medium Business Department)
"DIEX" registration trade mark (patent department) "DIEX" company name (patent department`99)
Participated in "JAPAN STONE FAIR"
Approved R&D Dept by KITA(Korea Industrial Technology Association)
Acquired Patent(Method & device to make multi layer diamond segment)
Industrial base technology development project (Intelligent Brazing M/C development)
Industrial Technology Development, Laser Welding Bench (Auto CNC Laser Welding Bench)
Export tower Award for one million US Dollars
Appointed as Venture Company by Small-Medium Business Department
2000 Patent Acquired (Rotation Cutter Mold traveling device)
Selected as Promising Product Export Company (Small-Medium Business Co-operative)
Certified ISO 9001 by SIRA Certification Service UK
Export Award for one million US Dollars
Appointed High Technology Company by Small-Medium
Business Co-operative
2001 Development Auto Core Drill Laser Welding Machine
Tension Machine with Auto Loading & Unloading-Export to Japan
Complete development of Auto Torque Test M/C by fund of
Small-Medium Business Co-operative
Acquired CE MARK for Computer Tension Control Bench
2003 CE mark acquired for Radius Grinding Machine
Participate WOC(World of Concrete) 2003 Las Vegas
Participate Verona Fair in Italy
ISO9001 2000 version acquired
Developed New grinding machine
Developed New wire bead cold press
Developed auto cup wheel brazing machine
Cutting Test machine Model;CTM9
Core Self centering auto core drill laser welding machine
Auto data storing & monitoring system of sintering machine
Total no. sales of machine exceed 700 all over the world
2004 Participate WOC 2003 Orlando ,Izmir marble fair 2003 Turkey
Verona 2004 Italy
Auto volumetric wire bead cold press Model:WPD20
Auto core drill brazing machine Model:CMBA20
Econo Vacuum Sintering Machine Model:VSE100/3
CE Mark Brazing Machine
2005 Participate Verona Fair Italy
Open Tianjin China Factory
Special Wire bead Cold Press Model:WPD20 development
Gang Saw & Circular Saw Brazing Machine Model:GFAB10 Development
2006 Open Suzhou Factory
Complete development of Auto Cutter Cold Press Model:ACP510
Resin Heating Press Development Model:RHP100
2007 Auto Grinding Machine Development Model:SAG1200AC
Gang Saw Tensioning Machine Development Model:GTM
Core Drill Grinding Machine Development Model;CGB20
2008 Auto Diamond Array Press Development Model:32ADM
Open Xiamen 4S Center Office
2009 Econo Series Brazing Machine Development
GangSaw Tension Machine Development Model:GTM
2010 DIEX Tianjin Factory re-open
Auto Torque Test Machine Model: AWB4/24 Export Mexico for OSA Certificate
2011 500KVA Giant Vacuum Sintering Machine Development MODEL:VS500/3 for 3M Taiwan &
Singapore
2012 New Econo Type Saw Brazing machine ,Core Drill ,
Gangsaw Brazing Machine Development model GAB10
2013 Wire Bead Cold Press with Tube Insert Type Development Model: WPD20 Patent filed
ECONO GRINDING MACHINE SAG1200
2014 Diamond Array System Development" DIAPRINT" Development Patent filing
AUTO VOLUMETRIC COLD PRESS FOR DIAMOND ARRAY SYSTEM MODEL ACP40
AUTO GRINDING MACHINE CONTROLLER BY SERVO MOTORS MODEL:SAG1200AC
2015 New Machine develop
AUTO CUTTER COLD PRESS ACP5/10
M.F.INDUCTION FURNACE MSF500
AUTO TENSION MACHINE ATM1/12
AUTO BLADE POLISHING MACHINE FC300AD
2016 New Series Machine develop
AUTO GRINDING MACHINE SAG1200AC new
AUTO CORE DRILL BRAZING MACHINE CMBA30
AUTO BRAZING MACHINE FAB600AD
AUTO BRAZING MACHINE(400~2,200MM)NEW TYPE FAB10
AUTO GRINDING MACHINE (250~500MM) AGM 3D 500
AUTO CORE DRILL GRINDING MACHINE CGB20 AUTO INFEEDING & CLEANING SYSTEM INCLUDED.
AUTO CORE DRILL SAND BLASTING MACHINE ASB CD250
AUTO GANGSAW BRAZING MACHINE GAB10
2017 New Chinese Factory at Kunshan Jiangsu Province start.
Participated Xiamen International Stone Fair 2017
Auto Wire Saw Sharpening Machine WSM50/100
Auto Reaming Machine ARM4/9
Auto Gang Saw Brazing Machine GAB10
Auto Brazing Machine SAB16
Auto Tension Machine ATM1/12
Auto Blade Polishing Machine :FC350A
New Model Auto Dosing Machine ADB50
3P Transformer develop and new Vacuum Sintering Machine VS100/3
Complete Line to Turkey
All machines got CE Certificates
New Development for Auto CNC Laser Welding Machine CNC-L cooperating with CATIAD USA, Italy.
For circular & Core Drill using IPG fiber laser.
Auto Wire Bead Cold Press with Servo Cylinder Dimension Control
Diamond Array Auto Volumetric Cold Press ADCP40
Acquired 10 different CE Certificate & CE Conformity
Acquired Patent for Auto Diamond Array System
Participate Xiamen and Shuitou Stone Fair 2017
2018
Participated Xiamen Stone Fair 2018
New Granulator PGM10 developed and delivered to Korea
Designed Auto Wire Saw Sharpening Machine Max.100m Model WSM100 delivered to Korea & Egypt
New Turn Key Factory delivered to Turkey
Big Performance Vacuum Sintering Machine VS500/3 500KVA 3P to CPM production
Developed Full Auto Ceramic Saw Blade Brazing Machine model FAB300AC FAB400AC
Developed Big Blade Auto Grinding Machine Model :SAG2000AC max.2000mm to Egypt
Gang Saw Shank Cleaning Machine model:FC500 delveopped & delivered to Italy.
Developed Auto Circular Saw Laser Welding Machine Model CNC-L Max.1855mm with cooperation with
Italian Engineering team and delivered to Canada.
Participate Marmomecc 2018 (Verona Stone Fair 2018) with 3 machines
25 years anniversary of DIEX CORP foundation!
2019
Participate Xiamen Stone Fair 2019
Developed Auto Grinding machine max.1,600mm Model SAG1600AC
Developed New Gang Saw Shank Cleaning Machine Model:FC500G & delivered to Italy.
Developing CNC-Combo for European Customer ,circualr saw & Core Drill Crown Core Drill in one machine
.(Max.Dia 1,855mm)
Installed Complete Cutter Line at USA including MF induction Sintering Machine MSF500A
Deveopled residual segment removing function + segment repair function on FAB10 and
the other brazing machine
Full Auto Side grinding machine by Robot loading & un;oading ,hydraulic clamping & oscillation
Model SAMGS4/18C+R
participated Marmomec 2019 at Verona Italy Hall5 Stand G7 with GA10 & DC200 ,AB20V
Delivered GA10 & DC200 to Italian company
Developed New Gang Saw Brazing Machine with Arrow shape adjustment & special tall segments to cut Granite with auto flux
supply & alloy cut by scissor and supply gang saw especially in granite cutting Gang Saw
Model GAB10
Wire Saw Sharpening Machine with patent pending device attached to avoid ovalization model:WSM100 delivered to Germany
Full line granite gang saw production machinery to export to Poland
Wire Saw Sharpening Machine model:WSM50 export to Russian customer
2020
Improved Gang Saw Shank cutting & Holing & Riveting Press Model:350Ch+200R & GTM export to Egypt
Full line retipping Gang Saw line to Iran
Developing CNC-Laser Welding Machine with auto loading & unloading model:CNC-LA
DIEX CORP.will participate Xiamen Stone Fair 2020 in June 6~9 2020 Booth No B5067 cancelled due to COVID-19
Developed Full Auto Brazing Machine Model FAB400A(200~400mm) complete model
Completed one Robot to load & unload blade to auto grinding machine Model;SAGMS4/18C+R(two machine version)
WSM50 :we have developed new system to avoid ovalization of wire bead.
New version of MG2000
Export complete retipping center to Algerian Customer in Africa
2021
New type Rotary diamond array cold press Model:R4 start design & production.
VS500/3 supplier to 3M Taiwan
Full Auto Blade Grinding Machine(Model FAG450A) deveopled and supplied to Hilti
Full Auto Cup Wheel Grinding Machine(model:FCG180A)developed and suppliered to Hilti
Auto radius Grinding Machine Model RGA20S for circular saw & core drill segment developed
CNC Laser Welding machine (max.600mm Model CNC-LA600)developed & supplied
Auto Gang Saw Brazing Machine for Zenesis segment developed
2022
Complete line machines for granulation supplied to Klingspor AG Germany
Complete retipping line for circualr & gang saw suppliered to Thailand
New Machine development for Rotary Diamond Array Press Model:R4 start
Auto Tension Machine for small blade developed and deivered to customer
Auto Dosing Machine for special matel for KAERI(Korea Automic Energy Research Institute)
Full Auto Cup Wheel Grinding Machine Model:FCG180A develped and delivered to Hilti India(MHI)
Full Auto Blade Grinding Machine Model:FAG450A developed and delivered to Hilti India(HMI)
New Auto Volumetric Cold Press Model ACP40N and delivered to Bulgaria
Particicpated Xiamen Stone Fair 2022.
2023
Completed Auto Rotary Diamond Array Cold Press Model:R4
Delivered two Laser Welding Machine Model:CNC-L to Korean Customers
Participated Xiamen Stone Fair 2023.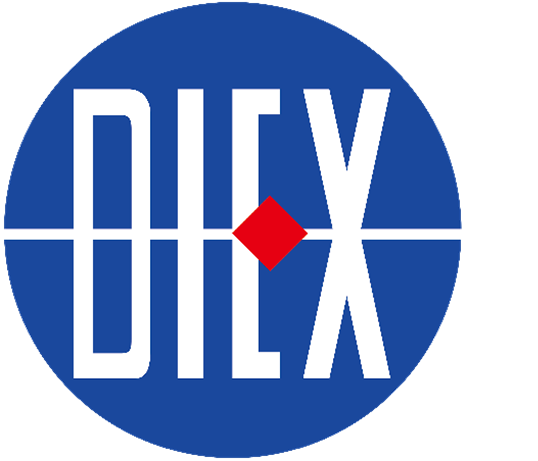 Advanced Machines & Equipment for Diamond Tools
DIEX CORP.
www.diex.com / sales@diex.com / T. +82 70-8877-4563 / F. +82 2-6442-3804