Wire Bead Drilling & Tapping Machine: 48FP/3
designed to drill &  tap wire bead using special tools for wire bead.
WIRE BEAD DRILLING & TAPPING MACHINE

MODEL NO. 48FP/3
This machine is designed to drill & tap wire bead using special tools for wire bead.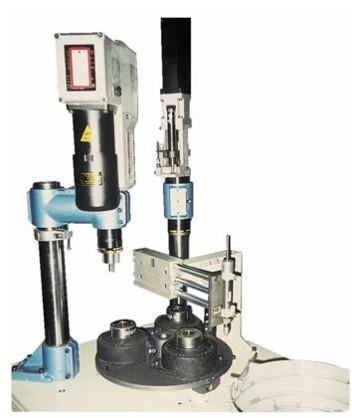 48FP/3: 3 stations
1. load & unload
2. drill
3. tap
TECHNICAL DATA
Automatic machine for drilling and / or tapping wire beads featuring solid or pre- drilled steel center;

Machine features 3 Stations and a turning table carrying 3 powerful chucks equipped with self-centering jaws holding the bead on the outside diameter, precisely indexed to bring beads center line in line with the Drilling and Tapping Tooling center line.

The Machine is comprising:

Vibratory Feeder Bowl (tailored for the specific design of the wire bead) for feeding and orienting each bead to be loaded;
* Station 1 = Bead Loading inside Chuck jaws / ejection of machined beads
* Station 2 = Drilling 1;
* Station 3 = Tapping or Drilling 2
* Rotary turning table carrying 3 chucks for powerful bead gripping;
* Pneumatic self centering gripper provide bead positive positioning at loading
station before to enter inside the machine;
* Automatic tool cooling/lubrication via Spay-Mist;
* Air blast and chip suction at each cycle maintain operation clean;
* Conduit conveys machined wire beads inside a container;
* Operator Control Panel
Functioning:
Vibratory bowl provides feeding and pre-orienting of each wire bead loaded, the Pneumatic self centering gripper precisely locates the bead in the pick-up location, a pick & Place picks it up and loads it inside the open jaws of a chuck.

Chuck closes and the turning table rotates bringing the bead first underneath the drilling tool and then underneath the Tapping tool.

Thanks to the 3 Station arrangement, Drilling and Tapping can performed in a single pass

Alternatively, by arranging Station 3 as a second drilling unit, dual drilling can be performed, first drilling from pilot hole in Station 1 and final drilling in Station 2.

Grippers mounted on the chucks are designed for each specific bead O.D. ;

Wire beads to feature O.D. within

pre-assigned O.D. tolerance range of +/- 0.2 mm

Adjustable drilling feed rate;

Adjustable spindle rpm;

Chucks and grippers performs self-centering action on the beads;

Number of beads to be drilled is programmable;

Machine is fully enclosed for clean and safe operation;

Machine comply to CE regulations;
TECHNICAL DATA
Productivity (*): 500 - 600 beads/hour
Power supply: 4 kVA, 380 V, 3 Ph, 50 Hz
Spindle rpm: 1000 – 6000 rpm
Max tool Dia: 13 mm
Controller: Mitubishi PLC+ Touch Screen Monitor
Tool lub: Spray mist
Air requirements: 10 liters/min - 6bar- 3 Gal/min @ 90 PSI
Machine Dimensions: 900L x 900W x 2000 H mm / 3'L x 3'W x 7'H
Machine Weight: 250 kg – 540 lbs
Color: AL 7032
This technical data may be used only for guideline of production. DIEX Corp. will reserve the right to introduce any technical modification to its own machines, also in contract acquired, which its irrevocable decision are improvements. Therefore, any datum given on the catalogues & and data sheet has only indicative value.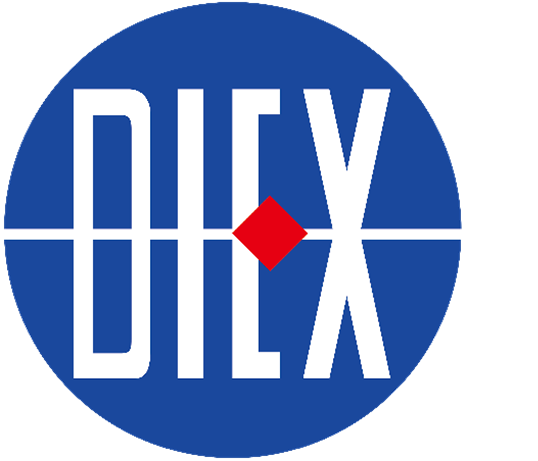 Advanced Machines & Equipment for Diamond Tools
DIEX CORP. #1104 -101,Empire, 127 Uisadang-daero, Yeongdeungpo-Gu, Seoul Korea.
www.diex.com / sales@diex.com / T. +82 70-8877-4563 / F. +82 2-6442-3804