VACUUM SINTERING MACHINE : VS60/3
One station automatic hot press machine in controlled atmoshere of advanced technology for the production of diamond tools.
VACUUM SINTERING MACHINE MODEL NO. VS60/3
ONE STATION AUTOMATIC HOT PRESS MACHINE IN CONTROLLED ATMOSPHERE OF ADVANCED
TECHNOLOGY FOR THE PRODUCTION OF DIAMOND TOOLS.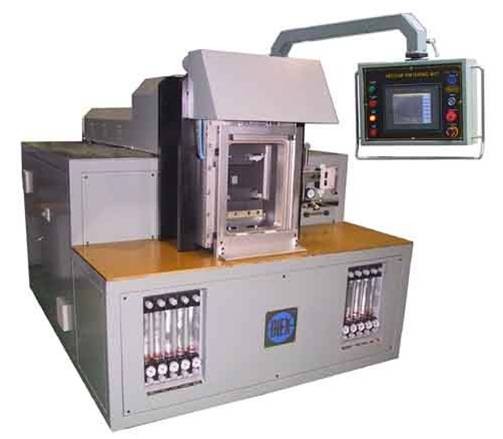 - AUTOMATIC ADJUSTMENT, TEMPERATURE, PRESSURE & SINTERING INCREASE TIME
- COMPUTER WITH STORING POSSIBILITY 20 PROGRAMS
- SINTERING THROUGH GRAGHITE
- MAX 12 STEPS SINTERING CONDITION IS POSSIBLE IN ONE PROGRAM
- AUTOMATIC VACUUM CHAMBER WITH GAS EMISSION CYCLE TO BE PROGRAMMED
AND CINTROLLED TEMPERATURE
- AUTOMATIC SLIDING DOORS ALLOW AUTOMATIC CONTROL OF SINTERING CONDITIONS AND GAS.
- HYDRAULIC POWER PACK WITH PRESSURE CONTROL BY AN ELECTRONIC DEVICE
- COOLING CIRCUIT, FOR ALL VITAL PARTS OF THE MACHINE
- COMPRESSION FORCE INCREAMENT PROPORTIONAL TO TEMPERATURE
TECHNICAL DATA
* MODEL NO: VS 60/3
* POWER SUPPLY: 380 V, 50/60 Hz (different voltage and frequencies on request)
* MAX.POWER CONSUMPTION: 100 KVA
* TEMPERATURE REGULATION & READING RANGE :
THERMOCOUPLE :20 -1,200℃ PYROSCOPE: 300 - 1,300℃
* VACUUM MAX. : 75Hg/cm
* COMPRESSION FORCE ADJUSTMENT: 2,000 - 40,000KG
* SINTERING AREA: 100CM2- 850oC
* MAX.AIR CONSUMPTION : 20 LITERS/MIN
* SINTERING TIME ADJUST: 0-999 MIN.
* COOLING WATER PRESSURE: 2 - 4 BARS
* COOLING WATER CONSUMPTION: APPROX. 80 LITERS/MIN.
* OVERALL DIMENSION: LENGHT1,600MM x WIDTH1,500MM x HEIGHT 1,800MM
* WEIGHT: APPROX. 3,000 Kgs

NOTE
This technical data may be used only for guideline of production. DIEX Corp. will reserve the right to introduce any technical modification to its own machines, also in contract acquired, which its irrevocable decision are improvements. Therefore, any datum given on the catalogues & and data sheet has only indicative value.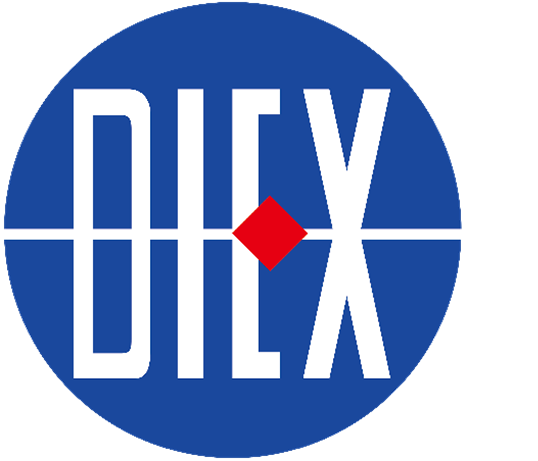 Advanced Machines & Equipment for Diamond Tools
DIEX CORP.
www.diex.com / sales@diex.com / T. +82 70-8877-4563 / F. +82 2-6442-3804