VERTICAL TENSION MACHINE WITH CONTROLLER VTC5/20
Vertical Tension Machine with Controller MODEL NO. VTC5/20
Automatic tensioning and controlling for circular saw blades at same machine. Passible
diameter is from 500mm to 2000mm. The shank should be vertically loaded & unloaded on the
machine and tensioning & controlling at the same cinditions without removing shank tension
checking and tensioning carried out on the same spindle
- It consists of a table with control spindle mounted on precision bearing with precision flange.
- Pneumatic piston with constant unidirectional trust, is controlled and movement of the
transducer and plotting unit trolley.
- Shank locking by hydraulic system.
- Slope angle of two roller could be adjusted
- Automatic shank rotation or manual shank rotation and automatic checking of tensioning
- Non contact linear sensor able to check deflection within 0.01mm.
- Fully computerized system allows creating & visualizing tension graphics & deviation.
- All technical data of tension &control could be stored on hard disc or USB
* MODEL NO :VTC5/20
* POWDER SUPPLY:380V 60HZ (Different Voltage and Frequencies on request)
*Power consumption :10KW
*Adjustable Pressure Force: from 400kg to 10000kg
*Tension angle change :- 3 degree max
*Roll speed :15m/min Variable
*Roll radius:55mm
*Tension control pushing force:5kg to 30 kg
*Shank rotation :0-30 rpm
*Overall dimensions :L3300xW1600xH2200mm
*Weight: (indicative)2800kg
This technical data may be used only for guideline of production. DIEX Corp. will reserve the right to introduce any technical modification to its own machines, also in contract acquired, which its irrevocable decision are improvements. Therefore, any datum given on the catalogues & and data sheet has only indicative value.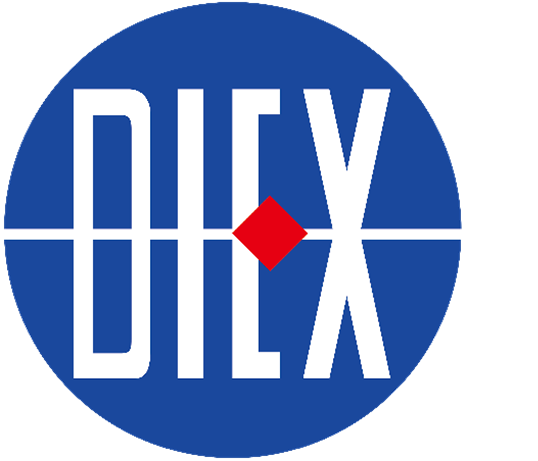 Advanced Machines & Equipment for Diamond Tools
DIEX CORP.
www.diex.com / sales@diex.com / T. +82 70-8877-4563 / F. +82 2-6442-3804