Auto Volumetric Wire Bead Cold Press WPD20
machine for moulding desirable size of segment with equal weight of powder at equal pressure by volumetric
AUTO VOLUMETRIC WIRE BEAD COLD PRESS

MODEL NO. WPD20
This equipment is the machine that mould desirable size of segment with equal weight of powder at equal pressure by volumetric. And in order to efficient using the machine, both production, it can produce 2 cavity wire beads And also this machine is designed to automatically proceed tube feeding, segment pressing and ejection.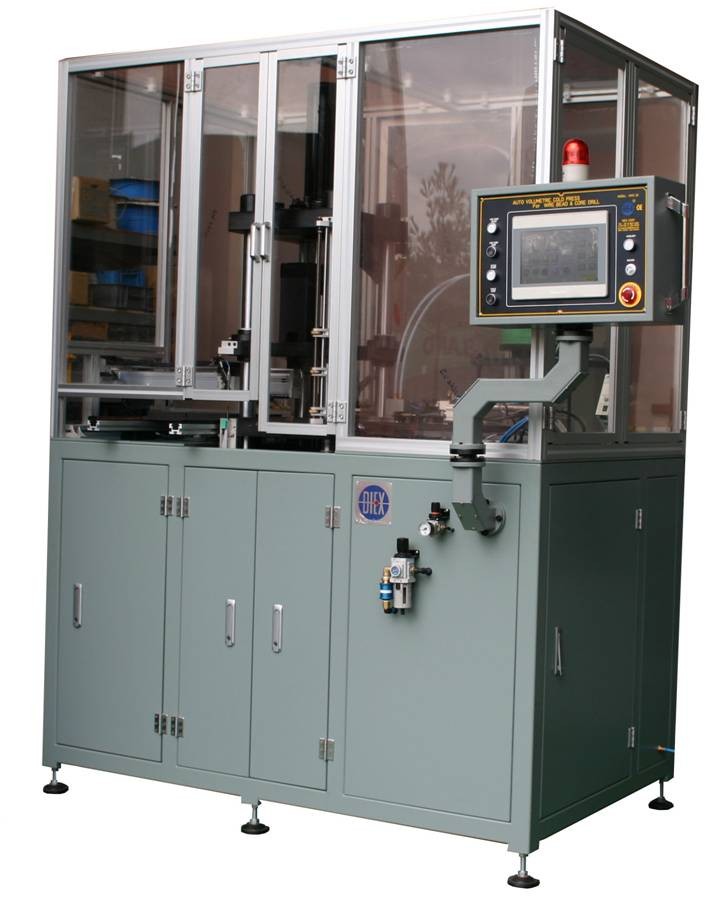 - By the using the monitor, you can select the segment size.
- Able to use the stored programming with PLC.
- Able to make goods with Laser machine.
- Able to make two beads per pressing.
- Easy to figure out the working pressure and numbers of segments.
- Easy to pressure setting.
- Automatically feeding, pressing & ejection of tube.
- Easy to align the clearance between segment and tube.
TECHNICAL DATA
- MODEL NO. : WPD 20
- POWER SUPPLY : 220V/380V, 3 PHASES, 50/60Hz
(Different voltages and frequencies on request)
- HYDRAULIC PRESSURE RANGE : 1,000 ~ 12,000 KG
- MAX POWER : 5KW
- AIR SUPPLY : HOSE SIZE : ¢8
AIR PRESSURE : 6 ~ 8 BARS
CONSUMPTION : Approx 40 Liters/Min
- COOLING WATER SUPPLY HOSE SIZE : 3/4"
WATER PRESSURE : 2 ~ 3 BARS
CONSUMPTION : Approx 20 Liters/Min
- MACHINE DIMENSION LENGTH : 1,800 mm
WIDTH : 1,150 mm
HEIGHT : 2,250 mm
- HYDRAULIC UNIT LENGTH : 900 mm
WIDTH : 670 mm
HEIGHT : 1,100 mm
- WEIGHT APPROX 2,000KG
Option: Auto dimension feed back system
Auto discharging & stacking device

This technical data may be used only for guideline of production. DIEX Corp. will reserve the right to introduce any technical modification to its own machines, also in contract acquired, which its irrevocable decision are improvements. Therefore, any datum given on the catalogues & and data sheet has only indicative value.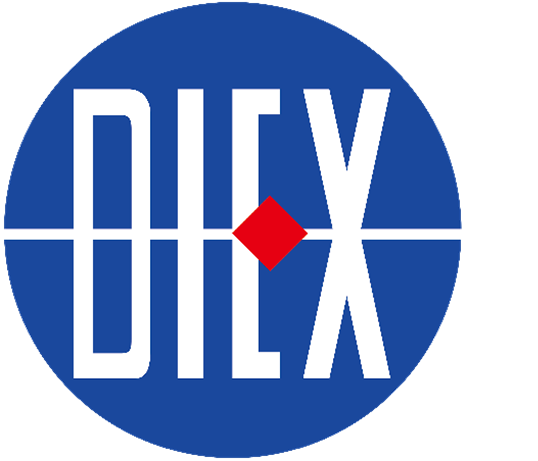 Special Machines & Equipment for Diamond Tools
DIEX CORP.
www.diex.com / sales@diex.com / T. +82 70-8877-4563 / F. +82 2-6442-3804