Full Auto Brazing Machine for Ceramic Saw Blade
Model FAB400AC
FULL AUTO BRAZING MACHINE for Ceramic Saw Blade Model:FAB400AC
High frequency automatic small brazing machine for diamond segments on the thin steel core
with diameter only for 300mm ceramic saw blade with special loading & unloading device.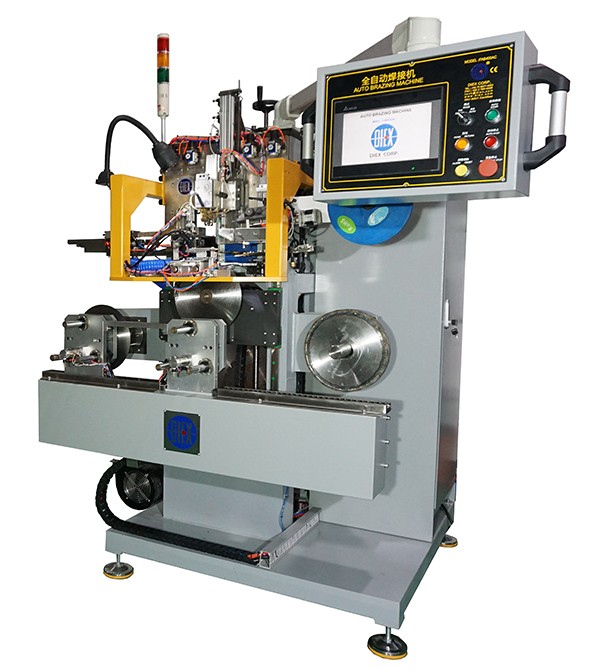 MACHINE FEATURES
Automatic feeding of sgements,transport,rotation of shank & feeding silver solder,enable good quality of brazing

Automatic loading & unloading of shank

High efficiency for Ceramic Saw blade with very narrow slot(approx.0.5mm)

Auto feeding of Shank by Stepping motor & sensor

Auto Brazing Position contorl by Servo motor & Alloy feeding by stepping motor

Micro Adjustment of brazing coil & segment position sensor.

Specila Alloy Flux supply to segment & Steel Shank by separate method to keep precision brazing.
TECHNICAL DATA
MODEL NO: FAB400AC

POWER SUPPLY: 380 VOLT, THREE PHASES, 50Hz

MAX.POWER CONSUMPTION: 25KW

COOLING WATER: APPROX.25 LITERS/MIN. 2-5 Bars

MAX.COMPRESSED AIR CONSUMTION: APPROX.40 LITERS/MIN. 6 Bars

BRAZING RANGE: 250~400mm Ceramic Saw Blade with 0.5mm slot

ROTATION of STEEL CORE: By SERVO MOTOR

OVERALL DIMENSION: L 1,500MMx W 1,300MM x x H 2,300MM

WEIGHT: APPROX. 1,500 Kg

Productivity: 6 blades/hour based on 20 seg for 300mm blade
This technical data may be used only for guideline of production. DIEX Corp. will reserve the right to introduce any technical modification to its own machines, also in contract acquired, which its irrevocable decision are improvements. Therefore, any datum given on the catalogues & and data sheet has only indicative value.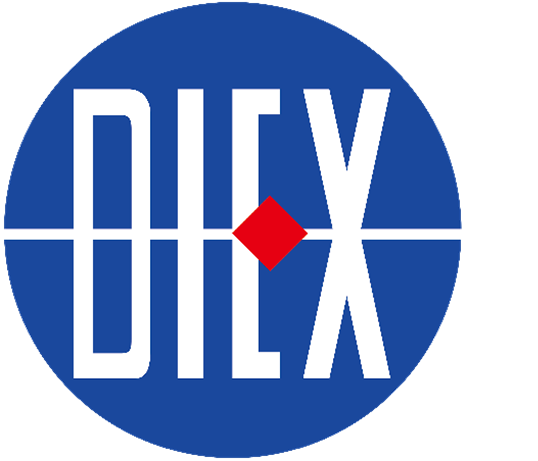 Advanced Machines & Equipment for Diamond Tools
DIEX CORP.
www.diex.com / sales@diex.com / T. +82 70-8877-4563 / F. +82 2-6442-3804