WIRE BEAD PLASTIC MOLDING MACHINE
WIRE BEAD PLASTIC MOLDING M/C / MODEL NO. VE 60/80/120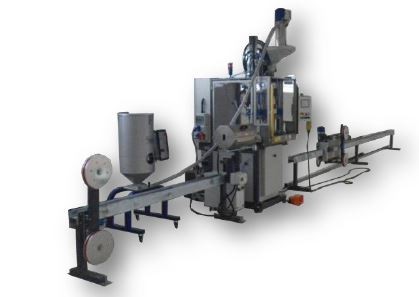 Auto Wire Bead Plastic Molding Machine with tension Wheel(option)
Machines design and built to plasticize diamond wire with clamping force 60,80 and 120 ton.
These machines allow to work in a simple and ergonomic way.
They have a closure of mobile plate from top to bottom. This system can be electronically adjusted and it's consists of two approaching hydraulic cylinders. High pressure of closure is provided by closing cylinder.
The injection unit has been studied with a well-known TPU manufacturer and he has been optimized to achieve the best plastification results. The injector can be positioned vertically or horizontally.
Machine is designed to plasticize diamond wire in open or closed loop.
It equipped with a system with 4 columns which ensures great precision of closure. Moreover the reduced distance between injector and wire allows to reduce the sprue.
The short distance between operator and wire allows maximum operator's working comfort
It's possible to supply all accessories and molds for changing the type of the wire. The supply includes staff training and the teaching of wire splicing technique.
For more information contact us.
NOTE
This technical data may used only for guideline of production.DIEX Corp.will reserve the right to introduce any technical modification to its own machines,also in contract acquired,which is irrevocable decision are improvement,therefore,any datum given on the catalogue & data sheet has only indicative value.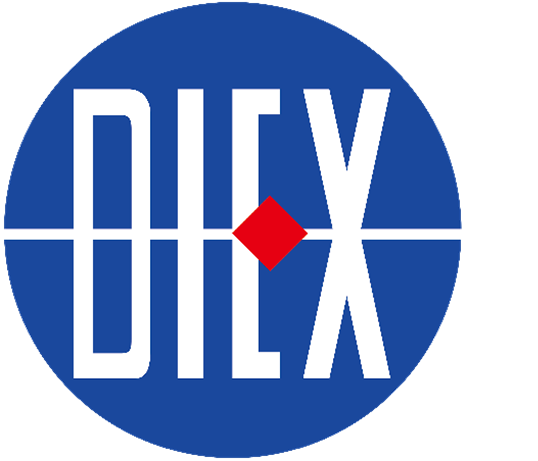 Special Machines & Equipment for Diamond Tools
DIEX CORP.
www.diex.com / sales@diex.com / T. +82 70-8877-4563 / F. +82 2-6442-3804