CORE DRILL LASER WELDING MACHINE : CLWB10
CORE DRILL LASER WELDING BENCH MODEL NO. CLWB10
Laser welding bench to weld core drill from 1/2 inch 10 inch by semi auto way,
using Co2 laser or fiber generator.
* AUTOMATIC INDEX ( RANGE OF SEGMENT : 1~50EA )
* SPINDLE ROTATION SPEED ADJUSTABLE
* SPINDLE FIXED
* SPINDLE MOVING DISTANCE ADJUSTABLE
* SPINDLE ROTATION POSITION ADJUSTABLE
* WELDING SPINDLE ROTATION CONTROLLED BY SERVO MOTOR CAN BE ADJUSTABLE,
* WIDE RANGE OF SPEED CONTROL & ADJUST PRECISED POSITION OF WELDING.
TECHNICAL DATA
* MODEL NO. CLWB 10
* POWER SUPPLY200/380VOLT, 50/60HZ
(Different voltages and frequencies on request)
* MAX. POWER CONSUMPTION2KVA
* AIR PRESSURE SUPPLY6~8 BARS, 20LITER/MIN
* WELDING RANGE1/2~10 INCH, 450LENGTH
* SPINDLE ROTATION SPEED1~30RPM
* OVERALL DIMENSIONS2000L X 800W X 1700H
* WEIGHTAPPROX. 500KG
* PRODUCTION CAPACITYAPPROX. 100PCS/8HOURS, 8"
This technical data may be used only for guideline of production. DIEX Corp. will reserve the right to introduce any technical modification to its own machines, also in contract acquired, which its irrevocable decision are improvements. Therefore, any datum given on the catalogues & and data sheet has only indicative value.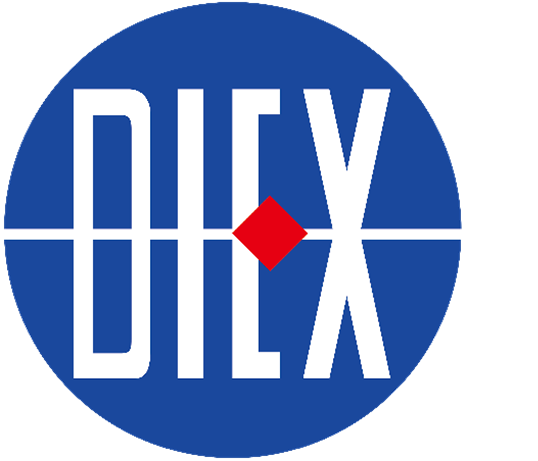 Special machines & Equipments for Diamond Tools.
DIEX CORP. #1104 -101,Empire,127 Uisadang-daero,Yeongdeungpo-Gu,Seoul Korea.
www.diex.com / sales@diex.com / T. +82 70-8877-4563 / F. +82 2-780-0098