AUTO VOLUMETRIC COLD PRESS : 32VPM
AUTO VOLUMETRIC COLD PRESS MODEL NO. 32VPM
This machine is designed to make diamond segment green compacting, is required
to use granulation powder by volumetric method.
PROGRAMMING AND STORING THROUGH PLC DIFFERENT PROGRAMS ALLOWED
PROCEEDING WITH SUBSEQUENT SIMILAR CYCLES.
IT IS ALLOWED TO MANUFACTURE MULTILAYER DIAMOND SEGMENTS UP TO 3
LAYERS SANDWITCH UNITS. WHOLE METALSHOE SEGMENTS ETC.)
THE COLD PRESS IS EQUIPPED WITH ONE FULl INNER PART STEEL MOULD
JUST TO REPLACE EASILY AND QUICKLY PART INTENTED TO MODIFY THE
GEOMETRY AND/OR THICKNESS OF COMPACTED SEGMENTS EVER PRESSED IN
VERTICAL OR ON FLAT POSITION .
2 SEGMENT PRODUCTION BY ONE PRESSING WITH DOUBLE PUNCH SYSTEM.
LASER SEGMENTS PRODUCTION.
MOULD LIFE INCREAS BY ONE SET MOULD.
TECHNICAL DATA
MODEL NO : 32VPM
MAX.POWER CONSUMPTION:9.5KVA
PRESSURE:FROM 500 TO 12,000Kg - LASER segment-12VPM
1,000 TO 32,000Kg -BIG segment-32VPM
COMPRESSURE POWER: 6-8 BARS
COOLING WATER: 10 Liters/MIN
VOLUMETRIC WEIGHING RANGE : 0.50 TO 60 GRAMS.
SEGMENT WEIGHT TOLERANCE : Min. 0.05MM/ONE FILLING
OVERALL DIMENSION: WIDTH 1300MM x LENGTH 1600MM x HEIGHT 2100MM
WEIGHT(INDICATIVE): APPROX.1,500KG
This technical data may be used only for guideline of production. DIEX Corp. will reserve the right to introduce any technical modification to its own machines, also in contract acquired, which its irrevocable decision are improvements. Therefore, any datum given on the catalogues & and data sheet has only indicative value.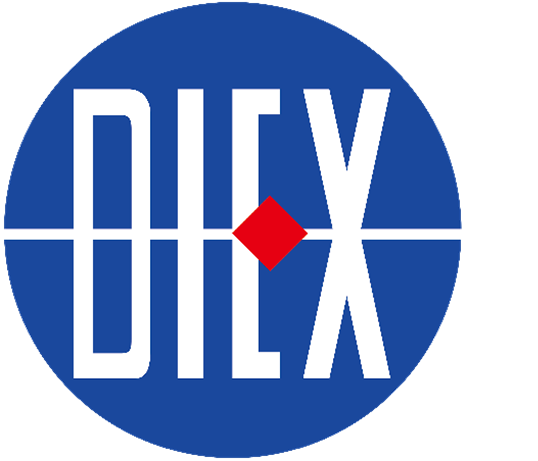 Advanced Machines & Equipment for Diamond Tools
DIEX CORP.
www.diex.com / sales@diex.com / T. +82 70-8877-4563 / F. +82 2-6442-3804