M.F.INDUCTION SINTERING MACHINE :MSF500A
Designed to sinter cutter products like continuous rim
M.F. INDUCTION SINTERING MACHINE MODEL NO. MSF500A
THIS FURNACE IS DESIGNED TO SINTER CUTTER PRODUCTS LIKE CONTINUOUS RIM,
TURBO BY CONTROLLING PRESSURE & TEMPERATURE WITH HIGH PRODUCIVITY
BY Medium Frequency INDUCTION HEATING
4 rotating rotary press IE,One sintering press(50Tons)+two cooling press(15Tons HYD.+one GENERAL )
+one loading & unloading station in order to increase productivity & quality.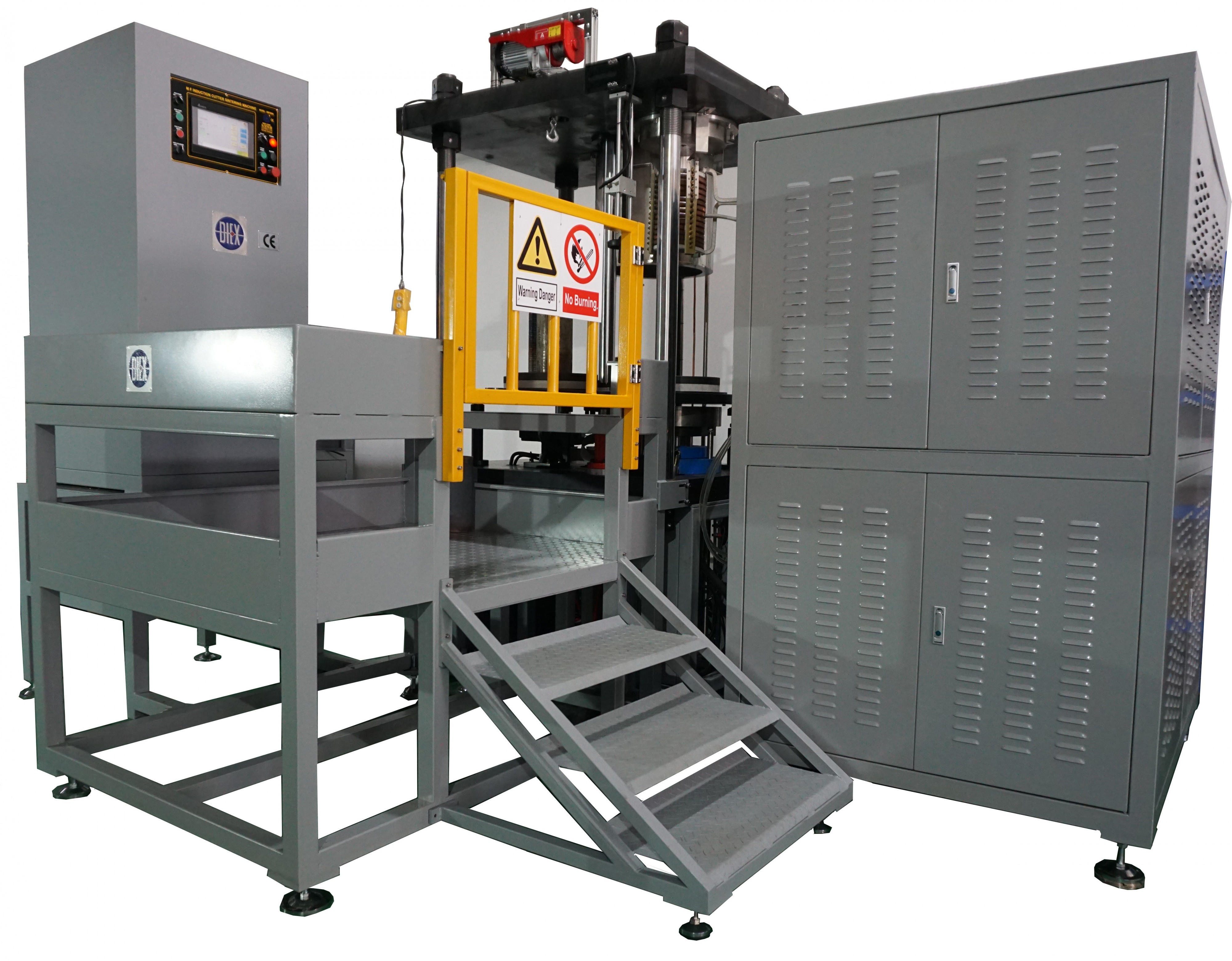 4 ROTATING ROTARY PRESS IE

ONE SINTERING PRESS (50 TONS)

TWO COOLING PRESS (15TONS HYDRAULIC + ONE GENERAL)

ONE LOADING & UNLOADING STATION IN ORDER TO INCREACE PRODUCTIVITY & QUALITY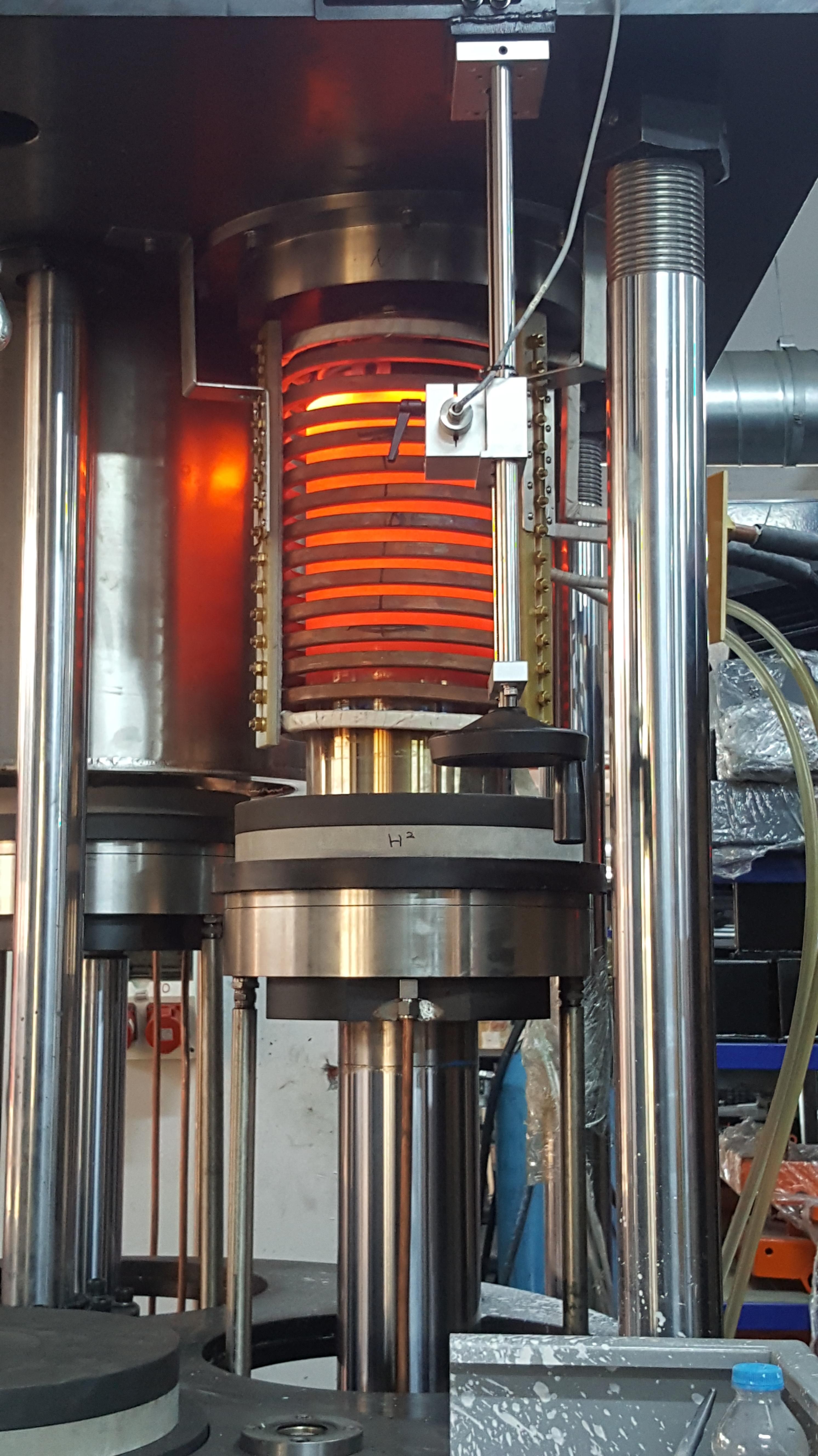 TECHNICAL DATA
Power supply: 220/380V, 3PHASE, 50/60HZ
(DEFFERENT VOLTAGE AND FREQUENCIES ON REQUEST)
Pressure*Sintering Press: MIN. 5,000kg / MAX. 50,000kg H2 Gas Control
Proportional valve control Color Touch Monitor
Trolley moving along with rail to cooling press
*Cooling Press Max. 15,000kgs N2 Gas Control
Hydaulic Unit to supply for both press including cooling system
Induction generator out put 90KW
Output frequency 1~29KHz
Output Current 25~170A
Output Volatage 70~550V
Input 380V 3 pahses 50/60Hz
Heating Time 1~99Sec
Cooling water required >0.2MPa 6Liters/min
Genertor Diemension 75x40x90mmH approx.85 kgs
Duty Cycle 100%
Temp.detect thermocouple type
Temp.control Auto Control ( PID CONTROL)
Cooling water consumption: 100~150 Liters/Min
Heating coilMin.: 4 " Max.:7"(Max.14'' by option)
Sintering time: ABOUT 0 - 45 Min
GasN2 0~30Liter/Min
H2 0~ 30Liter/Min
Touch screen color monitor
Dimension:Press 1,500mm (L) x 1,000mm (W) x 2,250mm (H)
Induction generator: 1,800mm (L) x 1,000mm (W) x 2,250mm (H)
Cooling Press:1,500mm(L)x1,000mm(W)x2,250mm(H)
Weight: APPROX.Press:2,000Kgs Cooling press:1,800Kgs
Induction generator: 2,000kgs
Productivityapprox.500pcs/8hrs 4"turbo cutter
This technical data may be used only for guideline of production. DIEX Corp. will reserve the right to introduce any technical modification to its own machines, also in contract acquired, which its irrevocable decision are improvements. Therefore, any datum given on the catalogues & and data sheet has only indicative value.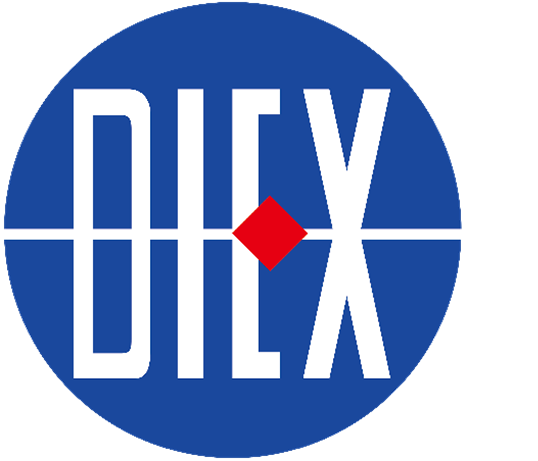 Advanced Machines & Equipment for Diamond Tools
DIEX CORP.
www.diex.com / sales@diex.com / T. +82 70-8877-4563 / F. +82 2-6442-3804